Hi there! I just posted about my Denver weekend trip and thought it would be helpful to include a separate blog post about my day trip to Rocky Mountain National Park! There's a lot to do and to see in this beautiful national park, so it's nice if you can spend more than one day here. But, if you're only in town for the weekend like I was, then even spending a day in Rocky Mountain National Park is well worth it.
Rocky Mountain National Park Day Trip from Denver
Here are things to do on your Rocky Mountain National Park day trip:
Walk around at least one lake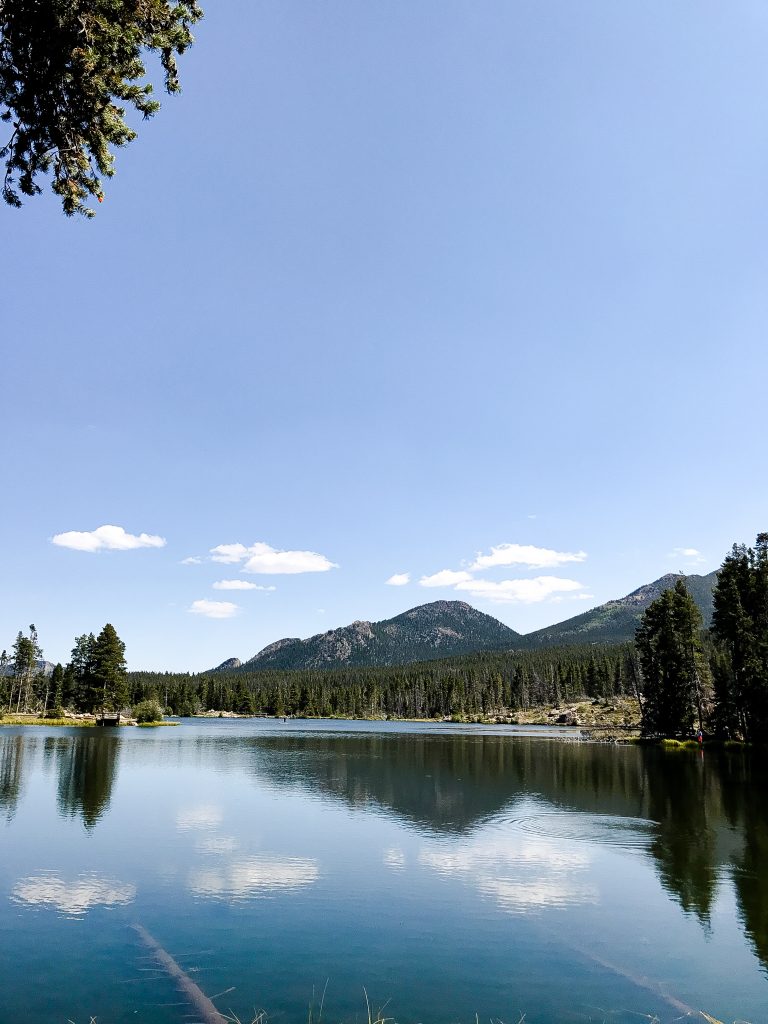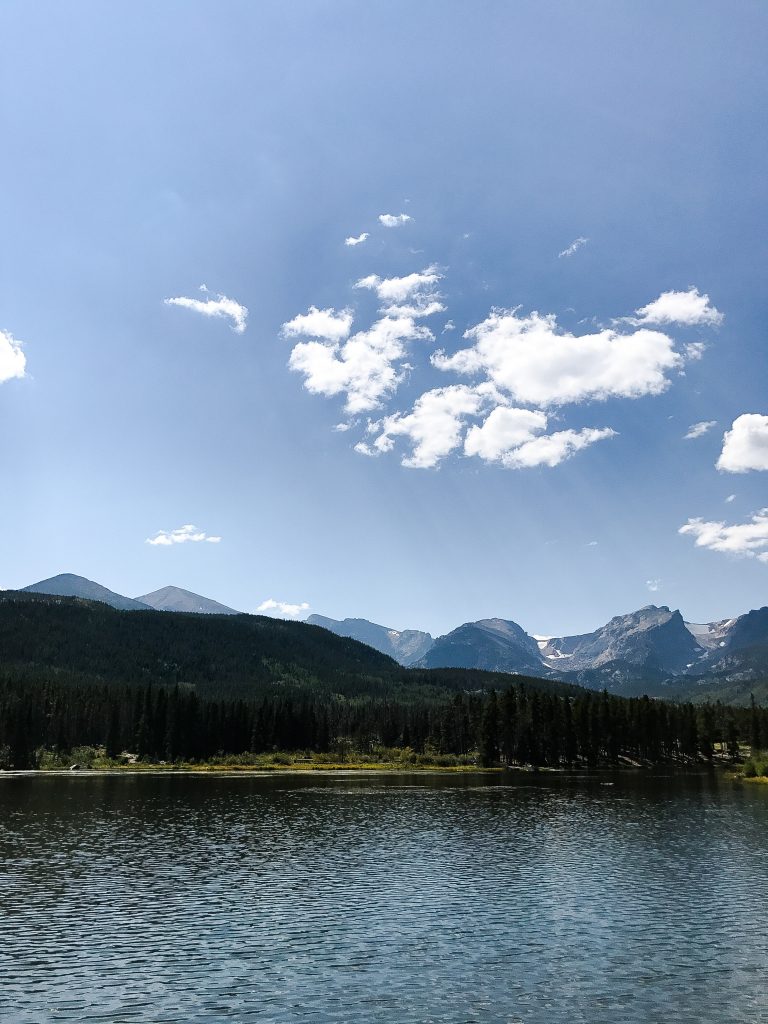 Check out pictures of lakes at Rocky Mountain National Park and you'll see why you've got to see them for yourself. There are abundant lakes throughout the park, but with just one day, we chose to check out Bear Lake and Sprague Lake. These are easy to get to when you enter the park from Estes Park and very clearly marked on the national park map. We tried Bear Lake first, but unfortunately we couldn't find parking, and we didn't want to waste time waiting for a spot. So we went back up to Sprague Lake and walked around, taking in the beautiful scenery.
If you're coming into the park from Estes Park, these two lakes should be the ones you aim to see.
Visit Alluvial Fan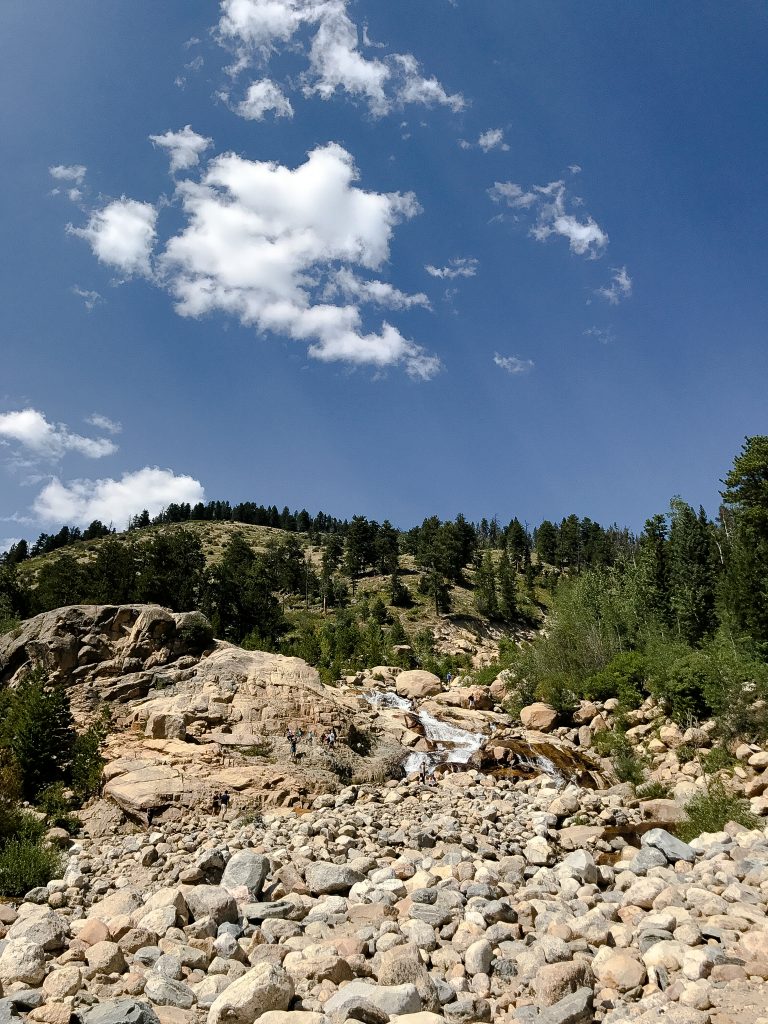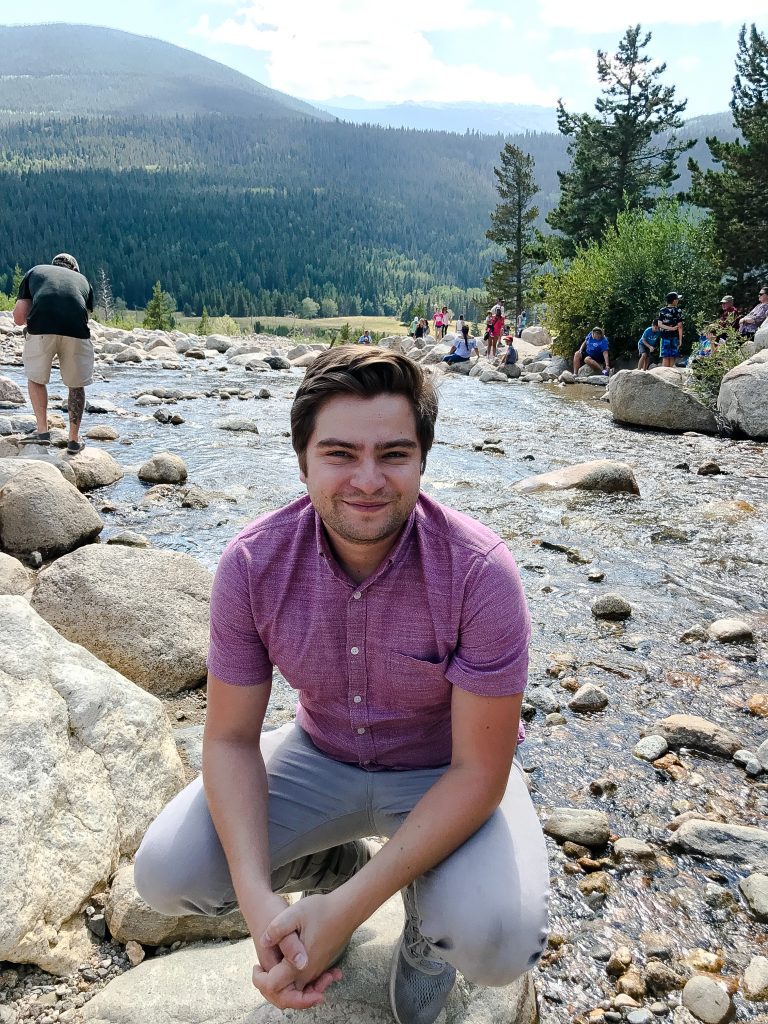 After visiting the lakes, drive back up Bear Lake Road towards the Beaver Meadows Visitor Center. Once you hit the fork, turn left onto Route 36. Veer right once you hit the Deer Ridge Junction to head towards West Horseshoe Park and Alluvial Fan.
Alluvial Fan is a unique waterfall created by a flood back in 1982. It's a great spot for pics and you can spend some time wandering around.
Drive the Old Fall River Road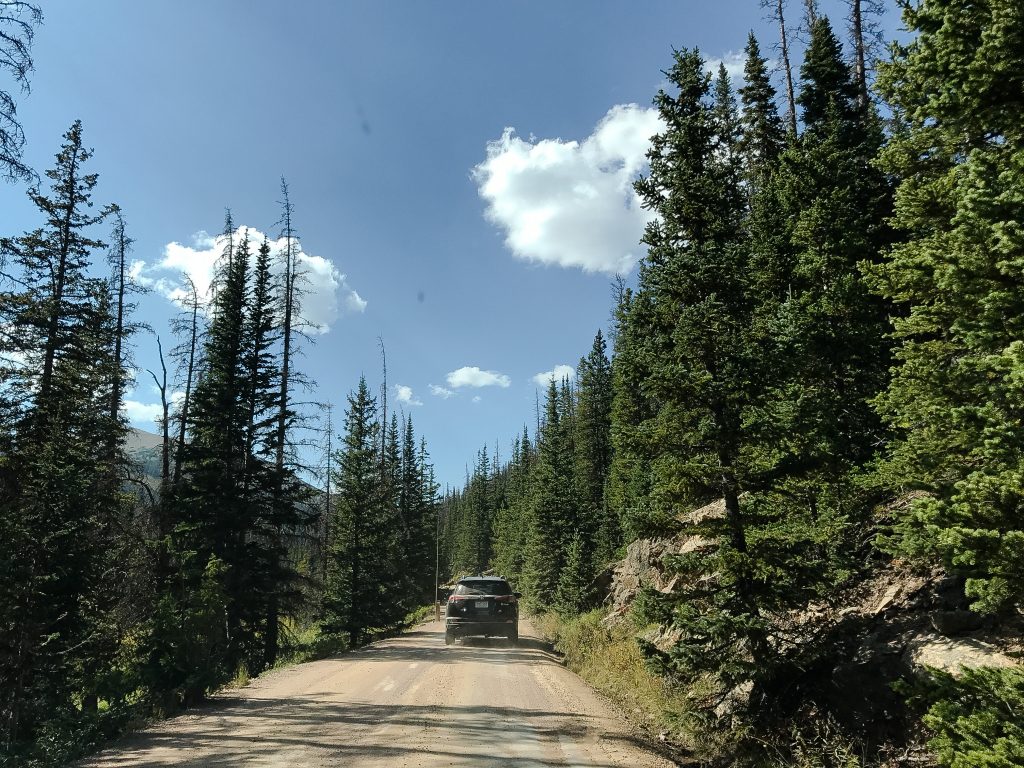 Right past Alluvial Fan is the Old Fall River Road, a gravel, one-way uphill drive. If you're adventurous, or if you enjoy driving off paved roads, this is the perfect path to take on the way to the Alpine Visitor Center.
As we neared the Alpine Visitor Center, where the road ends, we found plenty of scenic landscapes to photograph.
Note that this road is open from July 4-September. It was still open when we came on Labor Day Weekend, but you should check with a park ranger to be sure. If you can't drive the Old Fall River Road, just backtrack to the Deer Ridge Junction and continue up Route 34 for Trail Ridge Road.
Drive the Trail Ridge Road
Even if you don't drive Old Fall River Road, you can enjoy a scenic drive to the Alpine Visitor Center on Trail Ridge Road. Trail Ridge Road, known as the highway to the sky, takes you above the trees and into the tundra, where you'll get amazing views.
Since we took the Old Fall River Road to the Alpine Visitor Center, we were able to enjoy Trail Ridge Road on the way back down.
Sip hot chocolate at Alpine Visitor Center
The Alpine Visitor Center is at the junction of Trail Ridge Road and Old Fall River Road, so you'll reach it by whichever road you take. You'll get great views and you can purchase some souvenirs before heading out.
Best of all, they offer hot chocolate! And let me tell you, sipping hot chocolate while high up in the mountains is the best feeling ever. Maybe it's the mountains, or how chilly it was, but that might have been the best hot chocolate I've ever had!
NOTE: Alpine Visitor Center, Trail Ridge Road, and Old Fall River Road are usually closed during the winter. Check their hours ahead before you visit!
Once you've had your fill of hot chocolate and the magnificent view, it's time to head back down the mountain. We drove Trail Ridge Road all the way back as the sun began to set, and it was gorgeous.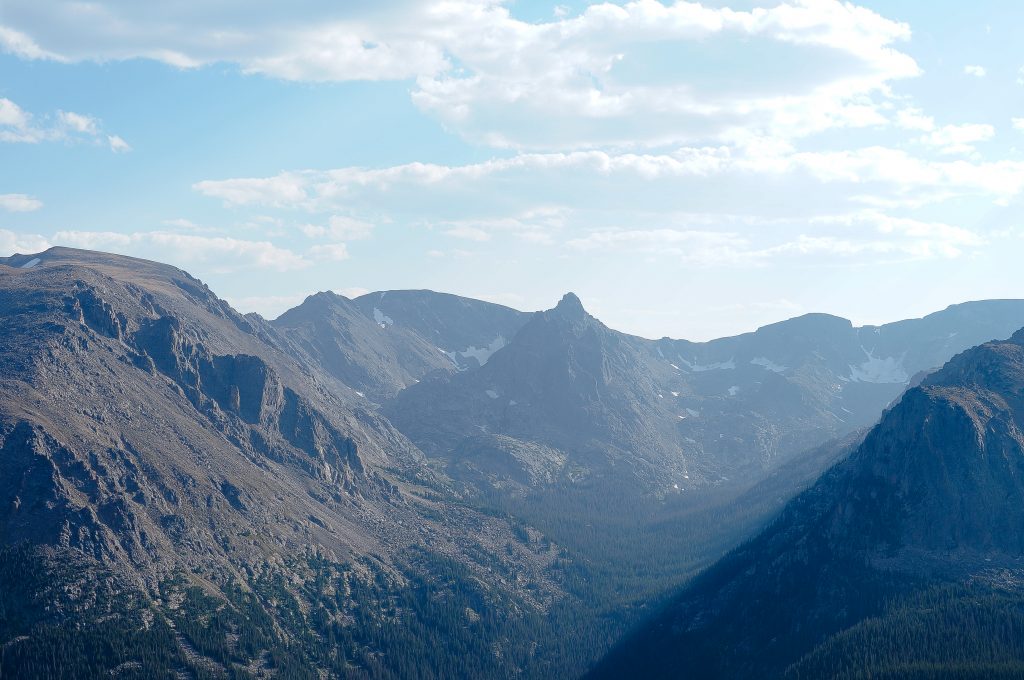 Where to stay near Rocky Mountain National Park
Many people book lodging in Estes Park, the town right before the entrance to the national park. We visited Rocky Mountain as part of our Denver weekend trip, so we stayed at Hyatt House Boulder/Broomfield since it was in between the park and the city.
When to visit Rocky Mountain National Park
Anytime during the summer is always a safe bet with mountainous national parks. Rocky Mountain National Park was quite cool when we went in early September, and we encountered no site or road closures. Several areas of the park close during winter, such as the Alpine Visitor Center, Trail Ridge Road and Old Fall River Road.
If it's your first time visiting the park, I would recommend going in the summer or early fall so you can actually visit the major spots. That being said, I've seen people go when it's snowy and the mountains look magical. Just depends on what you want to do and see when you visit!
You can always check out the Alpine Visitor Center webcam to see current conditions in the park.
Man, I really want to sip hot chocolate up in the mountains now. Hopefully I can go sometime soon! If you're planning a day trip to Rocky Mountain National Park, I hope this helped! Make sure to check out my weekend in Denver itinerary for things to do on your first visit to Denver!